We are in 2020 now and we had lots of medium to consume information, communicate with others and also to promote our business on the internet. But why messenger marketing matters now?
"I had just started; my cab came late."
"I will be there around 4.20 p.m."
"Make sure everyone will attend the meetup today."
This is me used to send texts to my colleagues on messenger. It is a more natural way for me to communicate rather than calls or emails.
Not only me, but most of them are also using messenger applications to communicate with their circle. If you don't have or not using any instant messaging apps on your smart devices, kindly engage in the comment section (We are looking for the modern-day neanderthal).
I'm sure that no one will comment that they are not using any messaging applications because messengers are becoming the primary communication tool for people now.
And also I know that you know what a messenger is! For those who want a definition for the messenger here it is.
What is Instant Messenger?
Instant Messenger is a software application used to chat with people with the help of the internet. For example, WhatsApp, Facebook Messenger, WeChat, Skype, Telegram, AIM and a lot of others are instant messenger applications.
With the instant messengers, you can transmit texts, images, videos, gifs, stickers and many other things through the internet in a click.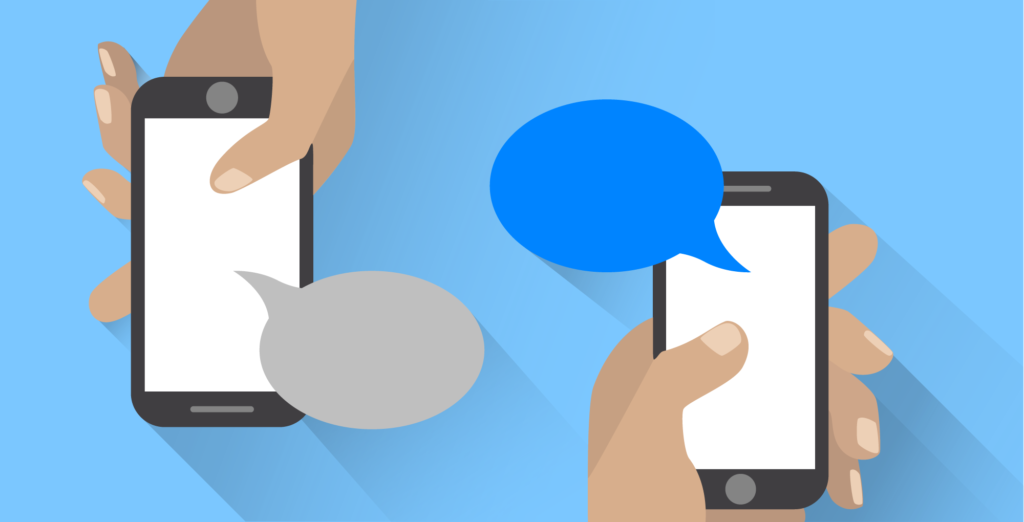 1-1 conversation and group conversation is also possible on today instant messengers which helps the people to get connected with their peers. Along with this, loads of other features like online visibility, status update, automated conversations, chatbots, payment, augmented reality are also kept in addition to make the messenger application more useful for the users.
Instant Messengers are becoming a must needed application for people now; hence, IMs are helping people to reach their friends and families irrespective of location, time, and circumstances.
The rise in data transfer innovation (the Internet) is the reason behind this kind of technology. The Internet gave access to reach one from anywhere at any time.
But How do people use to communicate with their friends and families in distant places before the internet came?
BI - Communication Before internet:
From the early days people used messengers to communicate (but without the internet!)
Shouting may work when interacting with the neighbours, but for greater distances, it doesn't
Pigeons were used to carry and deliver the written messages on a far distant. Then comes the ponies to transmit & send bulk written messages.
Also, humans are used as messengers in the old days to send important messages.
In the early 1800s, the telegram was invented, and it changed the way of communicating with distant personnel.
After telegram, Hush-a-phone was introduced in the 1920s to have more comfortable and private conversations with their peers. Also, people like to hear the voice of their loved ones from distant places.
On evolution, PAGERS came into the picture to have wireless text conversation, later then SMS was introduced in 1992 and became popular among people.
Though the internet was invented in 1983, it took much time to become famous and accessible to everyone.
Evolution of Messenger till 2020:
Emails play an essential role in communication between people, but instant messaging apps make it simple and easily accessible to everyone. IMs are the real game-changers which brings people together.
From ICQ to AIM, Viber to Skype, Google chat to Facebook Chat, instant messaging creates a revolution in connecting people. Internet users can send messages to their peers instantly and get the reply back simultaneously.
But where did it start?
Let's take you a ride back to the past a little bit.
It started in 1961 at Massachusetts Institute of Technology (MIT) when a compatible time-sharing system (CTSS) with other operating systems helped 30 users to chat in real-time by instant messaging.
In 1988, IRC (Internet Relay Chat) with the help of client software allowed users to connect over the internet and had a group chat in real-time. IRC was at its peak in the 1990s and they still had thousands of users today.
In 1996, ICQ (Internet Chat Query) was introduced by the Israeli company Mirabilis which allows its users to chat one-on-one or groups, share files, and can also search for other users. Later AOL acquired it in 1998.
In 1997, AIM (AOL Instant Messenger) came into the field of instant messaging, and they are the one who introduced "Buddy List". The concept of today's friend's list was pioneered by AIM.
In 1998, A Messenger was launched by Yahoo!
In 1999, MSN (Microsoft Network) was introduced by the tech-giant Microsoft to compete with Yahoo's Messenger and AOL's instant messenger. At the same time, pacific regions are occupied by QQ – Tencent's instant messenger which resembles the same as ICQ.
With some break in 2002, Apple released iChat – compatible for its operating system and along with AIM.
In 2003, Microsoft's Skype entered into the picture, which allows users to perform video chats, voice and chats.
In 2005, Google came to the roadway with its instant messaging application called "Google Talk" available only in Gmail user's window to have a live chat between Gmail users.
In 2006, MySpace – a social network launched its instant messenger, which allows their social media users to send messages instantly. "MySpaceIM" was the first instant messaging platform coupled with its own social media platform.
Then the social media giant Facebook introduced its messaging platform in 2008 called "Facebook Chat IM" where users can chat with their network from social media. Laer, it was decoupled with social media and became a stand-alone messaging application called "Messenger."
In 2009, WhatsApp allowed its users to send texts, voice notes, videos for free. Still, WhatsApp is the most used social messaging platform with 500 million users.
In 2011, Tencent launched its next instant messaging application called "WeChat", and it looked similar to WhatsApp. But WeChat has now developed into much more than a messaging platform. This messaging app has in-built shopping, gaming, payment and many other options.
Then a new model of instant messaging called "Slack" came into the industry in 2013. Workspace collaboration software allows the team members to communicate efficiently and smoothly.
Messenger is not new to us
Since the instant messaging model was introduced in the 1960s, the growth of the messenger application started from the 2000s.
Messenger has become more popular and populated since the 2000s, and it is growing abruptly that it has already overcome the population of social media in terms of population.
Even though it was the easiest way to connect and communicate, there are some reasons that influence the reach and development of instant messaging platforms.
Rise of Smartphones
Every messenger platform has its own smartphone application nowadays to make it easier for its user to communicate. But in the early days, people had to wake-up the desktops (which is huge) to use messengers.
Imagine the old, cubical, big-fat desktops our parents and grandparents had! And they are hard to carry (because it was not designed to get carried) and takes time to start & troubleshoot. People will barely sit that much time at the same place to talk to someone.
Today, our smartphones can be held within our palm and can be able to take wherever we go. Also, the speed of the application process is enormous when compared to old desktops.
Penetration of Internet
We can stream high-quality games, videos, even able to transfer or download huge memory data files. But in the early days, the internet was not that good, and it was not accessible by many people.
Internet penetration is also an essential reason for the growth of instant messaging platforms.
A high-speed, flash-like data transfer, with quality, was not available at that time!
Potential of Social Media
Everyone knows what social media is capable of; all viral and trending content is made possible only because of social media.
Think about the people from the 1980s; there is no social media and virality. Things and messages have taken some time to reach people. But, today we can access any details just a click away.
Reaching more people, educating them about instant messaging is a hard day. Every new application or platform or business utilises social media nowadays to reach more audience.
Millions and millions of people are on the social media platform, and every person with a smartphone has at least 3 to 5 social media applications on their smartphone.
Why Messenger Marketing matters now?
Imagine the opportunities that a marketing channel with 5.8 Billion population holds.
Yes, that is the total messenger active users' population by statista.
I will list some important points here, which explains why messenger marketing matters now.
Growth of Messenger Applications
The number of people using messenger applications is accelerated day by day, which has already pulled the population of social media now.
Also, there are a lot of new messaging platforms emerging with new features and specs.
Marketers have to consider this growth and utilise the messenger to reach their audience among the vast population. There are many chances that your potential customer may engage in the messenger conversing with his/her peers.
Easier to connect and communicate
Reaching the audience and customers are tough nowadays because every platform is crowded with competition and to win this, you need to find a channel with less competition.
Most of the population in the world has messenger applications with them, and the platform is also not crowded (for now) with huge competition.
In messenger, reaching the audience is easy, just like sending texts to your friends. Unlike email or search engine optimisation you can get immediate response from your audience since messengers are made for two way communications.
State of Audience Interest
A survey shows that consumers expect a personalised experience from the business online where they experience only 23% from the company.
Audience's interest and expectations are changing, and they are more likely to chat with business instead of doing calls and emails.
Messenger marketing will give the complete solution to fulfil customer expectations with hyper-personalised experience.
Best Engaging Metrics
Customer engagement metrics differentiates the brand from ordinary business. As consumers always like to engage with brands which provide them quality product and service, engagement metrics have to be leveraged to grow your business.
Using messenger marketing, your audience can engage with your business chatbots or live person on the messenger platform. Chatbots are programmed in a manner to provide the answer to the query raised by the consumer.
Also, chatbots can perform many other things to keep your audience engaged with your business.
Personalised Customer Experience
Delivering the right content to the right people at the right time is what personalisation is all about.
Unlike other marketing channels like search engine optimisation, social media, paid ads (not email) and other channels, messenger marketing can deliver the highly-personalised content automatically 24*7.
From visiting the website until completing the purchase, messenger marketing can handle the audience with personalised experience throughout the customer journey.
Nurturing Customer Base
Every business needs to undergo many processes to reach the audience, follow the prospect, convert the lead, make them re-engage with your business.
The whole process is not that easy as I have written within two lines; it will require a lot of effort and team to make it happen.
With the help of messenger marketing, you can build your audience/subscribers base quickly when compared to other channels. Nurturing quality leads and audience base makes it easy by chatbots on messenger marketing.
Collect and Audit Customer Data
Every campaign and effort of promotion have to be tracked, stored and analysed to produce a better campaign in future.
On messenger marketing, you can collect the essential details of subscribers while they were opting-in, just in a click.
The collected data can be stored automatically on the SilFer bot's platform, and you can see the subscriber data as an overview in the dashboard. For complete customer detail, go to the "audience" section from the menu where you can find "Name", "Language", "Last-Seen", "day when opted-in", "medium where opted-through" details of a subscriber.
You can utilise the customer data for segmentation, auditing, analysing and many other purposes.
Be in Touch with Your Audience
No matter where your audience opting-in with your messenger platform, you can reach them anytime and can always be in touch with them.
Imagine if a visitor comes to your website and opting-in through the messenger pop-up (Messenger customer chat) on a landing page, after conversing with your business, the visitor decides to end the chat.
You can re-engage with them and make a follow-up on your messenger platform, with all the conversation history that they had on your website pop-up.
Messenger marketing is not only making it easy to reach the audience but also keep in touch with your audience.
Accelerating Funnel Process
Every business has a funnel where creating awareness & educating the audience about your product to converting them to customers & making them re-engage on your business contains many processes and time-consuming.
Using messenger marketing, you can accelerate the funnel process from acquiring users to converting them into customers, because on typical conversion funnel audience and business have to engage on a different channel also it consumes much time.
On messenger marketing, audience and business both have the chance to engage on the same channel (messenger), and business can use the messenger for every funnel process. So it is easy and will not consume as much as other processes.
The above image shows the conversion rate on every funnel process. When the website funnel process got compared with messenger funnel, the result was fantastic with the ratio of 1:143 outcomes.
Leveraging Open & Click Metrics
Showing your content and products in front of your audience is hard, and marketers are pushing every available channel to get more reach on their product and its content.
A study shows on email marketing open rates should be between 15-25%, and open rates were around 2.5% also the expected click-to-open rate were between 20-30%.
So what do you expect these metrics from messenger marketing?
Well, it will surprise you.
On messenger marketing, the open rates are above 85%, and click rates are above 44% also the click-to-open rates are above 65%
Isn't it amazing?
Surprisingly, yes.
What else does a marketer need apart from the marketing channel?
Don't Miss the Opportunity
Have you ever heard about First-Move-Advantage?
According to Wikipedia,
"Advantage gained by the initial ("first-moving") significant occupant of a market segment. First-mover advantage may be gained by technological leadership or early purchase of resources."
Messenger marketing is not crowded by competition now (they will in the future).
Now, is the right moment to step your foot on messenger marketing before your competitors do.
Start building chatbots for your business and create the best messenger marketing strategy to provide value to your audience and your business too.
May money while the channel is seclusive.
Create your Own Facebook Messenger Chatbot Now
Get into action now and start developing a messenger chatbot for yourself.
Creating a chatbot on our platform takes much less time than brewing your coffee.
Signup today and build amazing chatbots for your use.